Will the bumper tribal voting in Chattisgarh for INC lead to their revival in Western Odhisa?
"Jai Johor" is the clarion call that binds tribal people across all ages in the Indian peninsula but their show of might seen during the recently concluded Chattisgarh Assembly elections might rekindle the hopes of moribund INC cadre in a key battleground bordering state of Chattisgarh – Odhisa.
There are 8 districts in Chattisgarh – Bastar, Dhamtari, Gariaband, Jashpur, Kondagaon, Mahasamund, Raigarh and Sukma which share their border with similar number of districts in Western Odhisa – Bargarh, Jharsugda, Kalahandi, Koraput, Malkangiri, Nabarangpur, Nuapada and Sundargarh. The tribal population across these districts is 40% & above which makes them a significant voting bloc whose movement in a particular direction can provide windfall gains in Assembly & Lok Sabha seats.
In the state of Chattisgarh, the movement of tribal votes from BJP to INC was one of the critical factors for the landslide defeat of the 3 term incumbent government of the BJP. BJP lost 8.6% (Refer Table-1) of its vote share in 2018 compared to 2013 Assembly elections with Congress being the major beneficiary gaining more than 6.4% (Refer Table-1). The drop for BJP is further accentuated when one looks at their vote share compared to the 2014 Lok Sabha elections (drop of more than 16.4%).
Table-1: Vote share of Political Parties in the Tribal Dominated Districts of Chattisgarh in Past elections
Party Name

2013 Assembly Vote Share

2014 Lok Sabha Vote Share

2018 Assembly Vote Share

Vote Swing

(2018 vs 2013)

Vote Swing

(2018 vs 2014)

BHARATIYA JANTA PARTY

41.6%

49.4%

33.0%

-8.6%

-16.4%

INDIAN NATIONAL CONGRESS

39.0%

38.9%

45.4%

6.4%

6.5%
A greater deep dive into the district specific result shows that BJP vote bank has witnessed a complete meltdown and Congress has gained significantly at its expense – in areas like Bastar and Jashpur districts INC has gained 9.6% and 13.1% in vote share terms (Refer: table-2) respectively thereby squeezing out smaller parties apart from the BJP.
Table-2: Vote share of Political Parties in the Tribal Districts of Chattisgarh in different elections along with their SC & ST Population: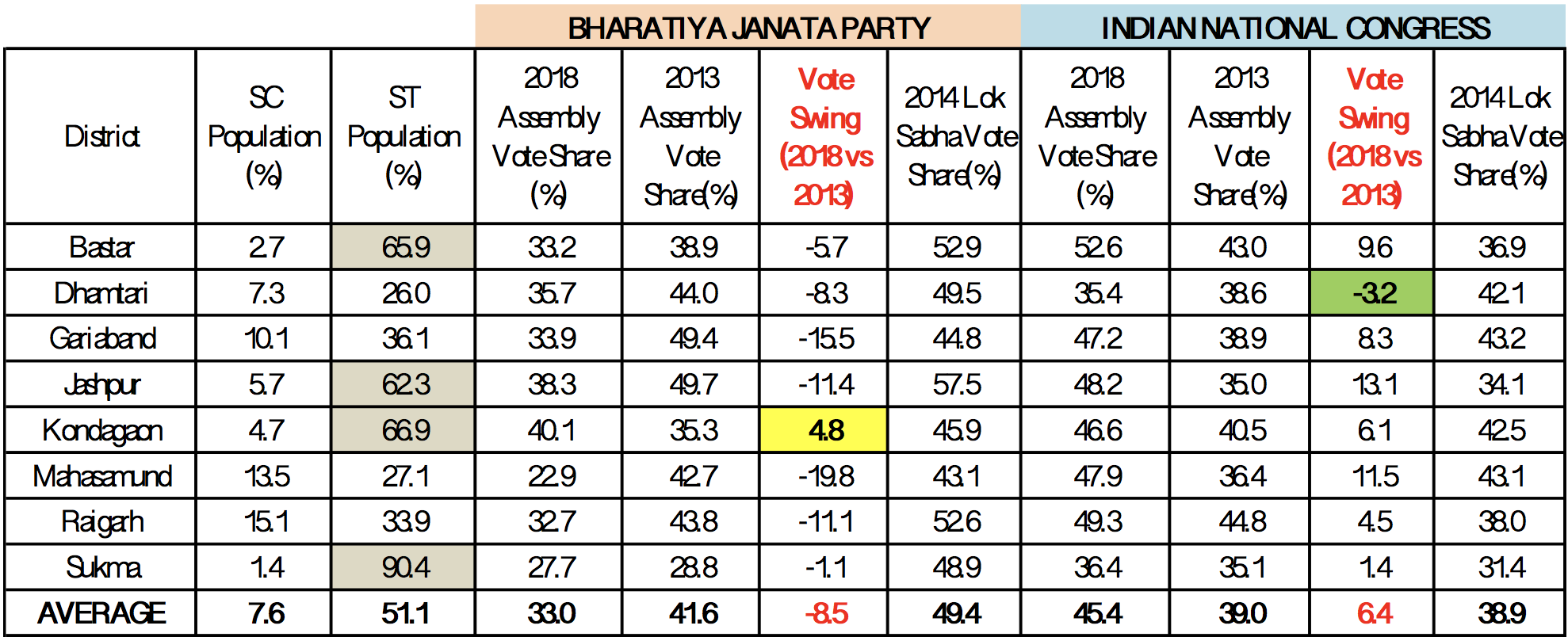 During the Chattisgarh elections social platforms was abuzz with a term "Urban Naxals" and it was widely propagated that Naxals will be voting for the Congress. However in the district of Sukma (the heart of Maoist activity) there is one assembly constituency Konta (ST) which gives an interesting picture. Across successive Assembly elections the Communist Party of India (CPI) known in local circles as the "Laal Jhanda Party" has maintained a steady support base (Refer Table -3). Even in 2018 Assembly elections their vote share remained mostly intact and did not get transferred to the Congress party which dispels the perception propagated through social media platforms.
Table-3: Vote share of CPI in Konta Assembly seat of Sukma District across Past elections
| | | | | | |
| --- | --- | --- | --- | --- | --- |
| Party Name | 2008 Assembly Vote Share | 2009 Lok Sabha Vote Share | 2013 Assembly Vote Share | 2014 Lok Sabha Vote Share | 2018 Assembly Vote Share |
| COMMUNIST PARTY OF INDIA (CPI) | 30.13% | 32.53% | 26.15% | 12.87% | 26.94% |
Given this seismic shift in voting pattern among tribal voters in Chattisgarh a pertinent question that arises – HOW WILL THESE RESULTS IMPACT THEIR BRETHREN IN ADJOINING DISTRICTS OF WESTERN ODHISA??? Now unlike the Coastal region people in Western Odhisa have greater social interactions with their tribal counterparts in Chhattisgarh and Jharkhand which also borders these districts. Before the 2014 Lok Sabha the equilibrium in this region was set between BJD and Congress with BJP being a marginal player with roughly 20% vote share at an assembly level. (ReferTable-4)
Table-4: Vote share of Political Parties in the Tribal Dominated Districts of Odisha in Past elections
| | | | |
| --- | --- | --- | --- |
| Party Name | 2014 Assembly Vote Share | 2009 Assembly Vote Share | 2014 Lok Sabha Vote Share |
| BIJU JANTA DAL (BJD) | 35.2% | 30.4% | 33.7% |
| INDIAN NATIONAL CONGRESS | 30.1% | 30.9% | 30.2% |
| BHARATIYA JANTA PARTY | 21.2% | 20.8% | 25.8% |
Post 2014 BJP started working hard in this region especially among tribal voters thereby withering away the Congress vote share. This became evident during the ZP (Zilla Parishad) elections of 2017 where BJP mobilized a lot of resources (a helicopter was given to the BJP MP Jual Oram for campaigning) (Refer: http://staging.molitics.in/news/11998/Odisha-panchayat-polls--BJP-makes-impressive-gains;-Naveen-Patnaik-losing-grip-on-state-) thereby winning 46% of the seats across these regions. The Congress vote share shrunk significantly and BJD suffered losses but was able to hold their ground but a new equilibrium was formed in Western Odhisa with BJP being the lead party and challenger to the incumbent BJD.
Table 5: 2017 ZP Election Results of Odisha in tribal districts
District

Total Zilla Parishad Seats

ZP Seats won by BJD

ZP Seats won by BJP

ZP Seats won by INC

Bargarh

34

9

25

0

Jharsugda

9

0

1

8

Kalahandi

36

1

33

2

Koraput

29

24

1

4

Malkangiri

13

1

10

2

Nabarangpur

26

11

7

8

Nuapada

14

9

0

5

Sundargarh

35

14

13

5

TOTAL SEATS

196

69

90

34

% OF SEATS WON

35%

46%

17%
Close on the heels of the Chattisgarh elections two key developments happened which have the potential to upset the new equilibrium created for the BJP:-
George Tirkey 5 time independent MLA from Sundargarh joined INC which has 51% tribal population and 18% Christian minority population – both demographically critical for all players.
BJP MLA from Rourkela Naba Kumar Ray left the party. He is yet to join any party however if he moves to the Congress then political ramifications will indeed be very high.
With BJP eyeing to increase its tally in Odhisa this belt of Western Odhisa which has 5 Lok Sabha seats – Bargarh, Kalahandi, Koraput (ST), Nabarangpur (ST) and Sundargarh (ST) is extremely critical and given the tectonic realignment of tribal votes in Chhattisgarh and the churning happening in Jharkhand it is up to the INC cadres whether they can realign their fortunes by:-
Organizationally mobilizing cadres and resources to consolidate this vote share at the expense of BJP and 15 year incumbent BJD?
Display nuanced political messaging by announcing a tribal chief minister in the upcoming elections thereby paving the path by probably sweeping this region?
This article is written by Arka Chatterji
Source of the data is www.chanakyya.com